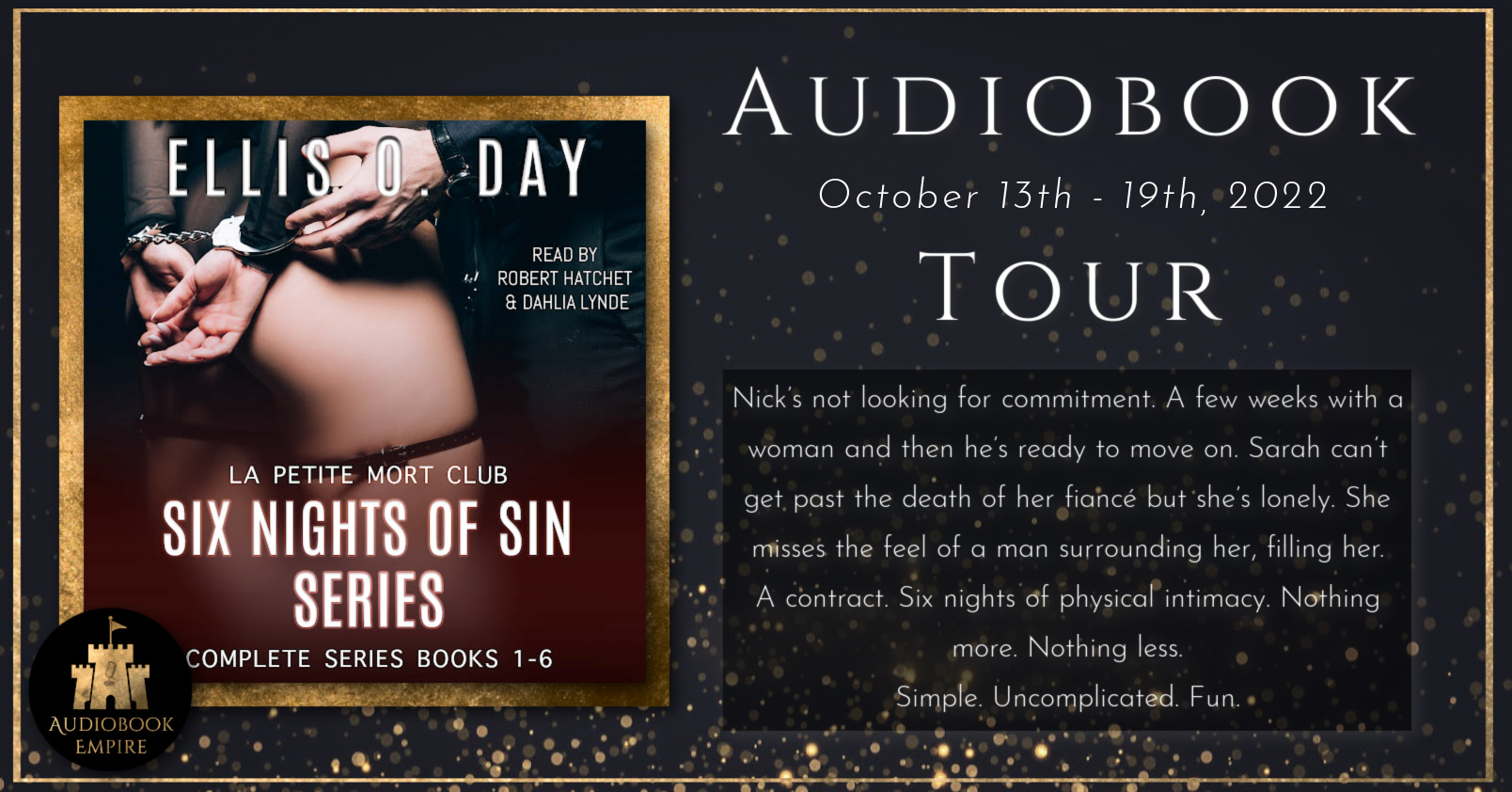 Author: Ellis O. Day
Narrators: Robert Hatchet, Dahlia Lynde
Length: 5 hours 2 minutes
Series: La Petite Mort, Books 1-6
Producer: Audiobook Empire
Publisher: Ellis O. Day
Genre: Romance, Erotica
Released: Aug. 12, 2022
---

Two strangers. Six nights exploring their deepest, darkest fantasies.

Whatever he wants, she'll try.

Whatever she wants, he'll submit.

Nick's not looking for commitment. A few weeks with a woman and then he's ready to move on.

Sarah can't get past the death of her fiancé but she's lonely. She misses the feel of a man surrounding her, filling her.

A contract.

Six nights of physical intimacy.

Nothing more. Nothing less. Simple. Uncomplicated. Fun.

But she didn't expect Nick to be sweet and sexy and he never expected to want more.

When the contract is over will either of them be able to walk away?

A new adult erotic romance that's filled with second chances, kinky sex, and raw emotions of two damaged people finding each other and learning that life is worth taking a chance.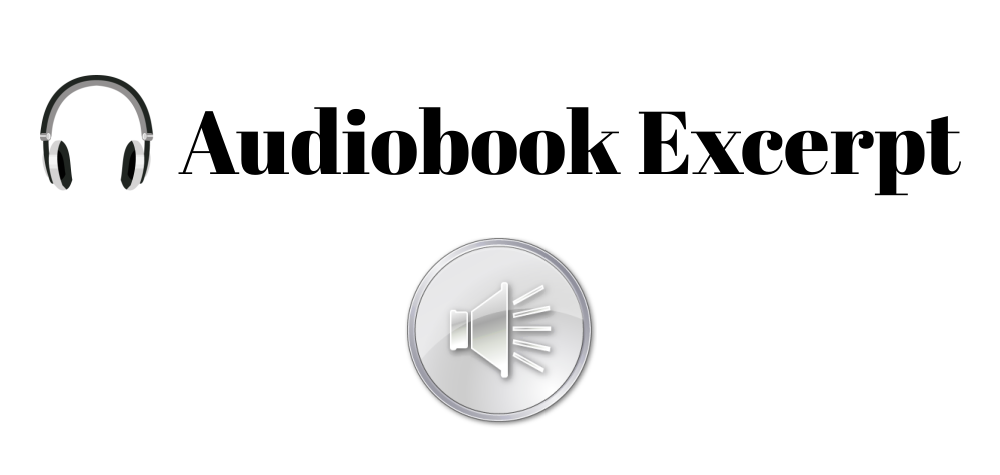 Ellis O. Day loves romance—the steamier the better. She writes steamy, contemporary romantic comedies about the hot men of La Petite Mort Club and the women who drive them crazy. She believes that the cornerstones of all great romantic relationships are love and friendship, trust, attraction and fabulous sex. Her stories contain all of these (especially the fabulous sex).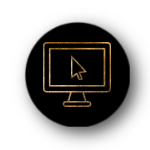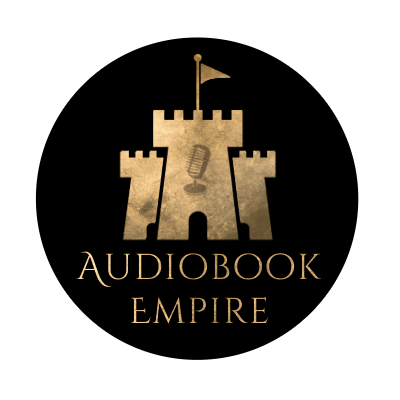 At Audiobook Empire, audio reigns supreme, narrators are hailed as heroes, and headphones are worn with pride.
Marrying pomp and circumstance with quality you can count on, Audiobook Empire is a full-service production house that produces and promotes audiobooks with gusto.
Give your audiobook the imperial treatment by producing it with Audiobook Empire.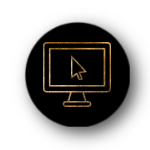 Q&A with Author Ellis O. Day
Was a possible audiobook recording something you were conscious of while writing?

No. I knew I wanted to turn my books into audiobooks, but I never realized all that was involved. I just thought that I'd find a man and a woman to read the parts, but I didn't realize how talented these actors have to be. They don't just read their parts, they have to differentiate the voice for the main character between spoken word and thoughts, as well as change their voices for the other main character who often speaks during their POV chapters as well as other side characters. These men and women are so talented. I'm utterly amazed.




Now as I write, I'm a bit more conscious about tags. Usually, I try not to add too many. In a dialogue you don't need a tag every line because when you're reading you see by the indent that it's a new character speaking. This isn't always the case with audiobooks. I pay attention to that now.

How did you select your narrator?

I listened to several voices, searching for the one that sounded like Nick and Sarah – at least to me. Nick is a playboy but not creepy. He's suave but alpha male through-and-through. Yet, he's not a Dom. He's willing to let Sarah run the show sometimes. Sarah was a little trickier. She's not your typical female lead. She's strong when she has to be and won't be pushed around by an alpha male, but she's so fragile on the inside. She's been through a tragedy and she's trying to hold her pieces together.

Were there any real life inspirations behind your writing?

All my characters have something of me in them, but did I know someone like these two? No. I start with an idea. Six Nights of Sin was my first romance. I also write fantasy under a different pen name. I wanted it to be steamy but also a bit different. I decided to do the "contract" / "woman sells herself" trope but with a twist. Sarah isn't actually selling herself; she's entering into a contract with a stranger for sex, not because she needs the money or owes the man something but because she's lonely and wants sex. From that point, I ask why would someone, a woman, do this? Why wouldn't she just pick up a guy at a bar or club? And what kind of guy would she pick? Then the questions just continue to roll. For example: Who is Nick? Why does he fall for Sarah? What is it about the two of them that makes them better together? And the answer to all these questions and more, becomes my story.

How do you manage to avoid burn-out? What do you do to maintain your enthusiasm for writing?

I often switch between writing romance and writing fantasy which helps, but I also treat it like a job. Yes, I love writing, but it is work. The moments of inspiration – those scenes that fill your head are wonderful – but they aren't a story. They are part of a story. Writing the rest to go around those pieces of golden inspiration is work and to get it done, I put my butt in front of the computer and write.

Are you an audiobook listener? What about the audiobook format appeals to you?

I love audiobooks because I can listen to them while I do other things – like clean the house, walk, jog, etc. It's a place for my mind to go while my body is doing mundane things.

In your opinion, what are the pros and cons of writing a stand-alone novel vs. writing a series?

My romance books are basically both. Each character's story, except Nick and Sarah's, is a stand-alone book but it's also a part of a series surrounding the men and women of La Petite Mort Club. I love series like this. Where I can start with any book in the series. So if one couple catches my interest, I can read about them and then go back and read another couple's story which took place earlier.





On the other hand, a series that must be read in order can give much more character growth because you're with these characters for a long time.

What's your favorite:

Food – this differs week-to-week and month-to-month. The only thing that is a constant is Pepsi. I love Pepsi. I drink water, Pepsi, and that's about it.

Song—again, this depends on my mood. I love classic rock.

Book—I really don't have a favorite book. I love Julia Quinn, Shakespeare, the Harry Potter series, the Dune series, The Godfather, Carl Hiaasen, and many other books and writers.

Television show—I love reality TV like Survivor and Big Brother. I enjoy these shows because I can work and watch them. It takes me about 3 hours to watch a 1 hour show because I stop every 10-20 minutes and work. If the show is too good (like Game of Thrones – until the last season) then I just watch and don't work.

Movie – I love the Jurassic Park and Jurassic World shows. Yes, I know they are cheesy, but I do love cheesy horror flicks.

Band – I don't have a favorite. I love some Rolling Stones songs, the Beatles, Imagine Dragons, Adele, Lou Bega, etc.

Sports team – I've never been into sports. When my parents used to visit and they were into the Chicago Bulls (this was the Michael Jordan years) I used to love to root for the other team, just as friendly rivalry with my folks.

City – I prefer the country over the city.

What bits of advice would you give to aspiring authors?

Decide what you want from writing. If you want to write as a hobby or just for you, that's great. Do it. If you want to write and turn it into your job, then learn the craft, write to market, and study marketing. You will need to market your own books because even if you go the route of traditional publishing, you'll have to market your own book.

What's next for you?

I'll be continuing the La Petite Mort Club series as well as the La Petite Mort Club Intimate Encounters series. I'll be spinning off a series from LPMC that'll be small town romances. I'll also finish up my two fantasy series and have three others planned to start soon. I have more writing to do than I have time.

😊